Finishes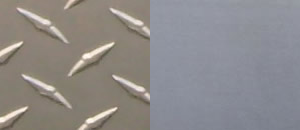 Some of our portable medical refrigerators/freezers can have one of two optional finishes: smooth and diamond plate. Unless otherwise stated, diamond plate finish is standard with the majority of our product line. Smooth finish is a specially ordered feature.
The photo shows both finishes. One the left, diamond plate. On the right side is smooth.
Medical fridges and freezers made of ABS plastic do not come with either of these finishes.