T-15 Portable Medical FridgeFreeze, 15-Liter with Cart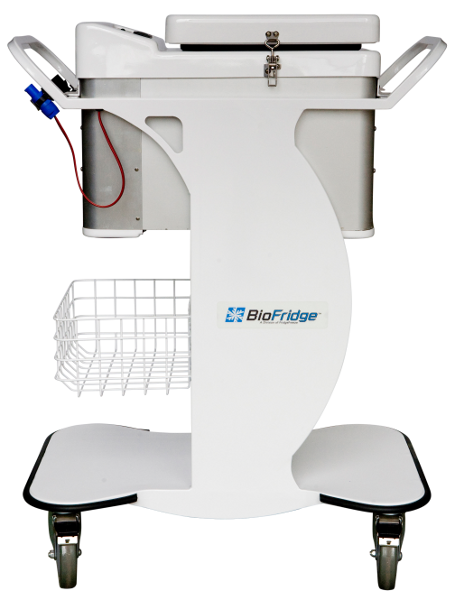 The 15-Liter T-15 portable medical FridgeFreeze with cart was designed for use within hospitals, laboratories and medical facilities. Like our other T-series fridges, it is self-powered for up to 48 hours as a medical refrigerator and 18 hours as a freezer (when given a full recharge time of 6 hours). This lightweight fridge is removable from it's cart and features an enclosed battery compartment. With FridgeFreeze technology at your side you'll never need to use ice boxes, dry ice or cold packs again.
Equipped with 2 baskets for holding papers and other important items, the sturdy aluminum frame rolls lightly on 4 castors and features rubber guards on both front and backsides to help protect against rugged every day use. All of our portable units operate on 12/24-volt DC and 110/220-volt AC power sources and the 15-Liter T-15 is no exception. This powerful unit can run when plugged into a vehicle's 12-volt power outlet, when connected to a solar panel, or when plugged into any wall outlet.
Please see our other T-series fridge,  the T-20.
Included Features & Accessories
Optional Features & Accessories
To see a chart comparing all of our refrigerator and freezer models,
click here.